Premium Service is a paid membership that gives you an enhanced support to improve your sleep and awakening. Get a JUKUSUI Premium subscription to get the following perks:
Subscription Benefits

Visualize your sleep trends
Summary screen is available. This screen shows the monthly statistical data. You can compare your data with the last month and check your trends in sleep rhythm, hours of sleep and snoring, etc. You can also check how your sleep has changed when you take some action to improve your sleep.

Visualize sleep debt
Analysis screen is available. This screen shows analytical results, focusing on "Sleep Debt" based on the past 30 days of your sleep and provides you with a few general tips. We hope you will use this screen as a clue to help you know if you are not getting enough sleep and to improve your sleep.

Snoring record and playback
"Snoring" feature shows how long you are snoring and how loud it is. By subscribing JUKUSUI Premium, you can record and play back snoring freely.

Sleep Notes and Sleep Notes Analysis
You can use "Sleep Notes" that allows you to save a short text for each sleep log and "Sleep Notes Analysis" that extracts sleep logs with notes and compare the data. By adding the details that may be directly related to your sleep (such as daily activities, temperature, bedding conditions, medications and supplements, etc.) to the sleep log, your sleep logs can be used for reviewing and analyzing logs.

Store recorded data
You can keep your snoring data by adding it to "Favorites". This data will be stored in Could Service and you can transfer it to a new device. You can also export the data to iCloud Drive (iOS) or Google Drive (Android).

No ads
All in-app ads are hidden.

Unlimited use of sounds
100+ alarm sounds and lull sounds are available for free. All sounds scheduled for future release are also available for free.

Make the most of our website
You can choose all of the options available on MY DATA in jukusui.com. You can get your own report analyzing your sleep and snoring in more various aspects.

More useful features
All useful premium features are available to JUKUSUI Premium subscribers.
How to Subscribe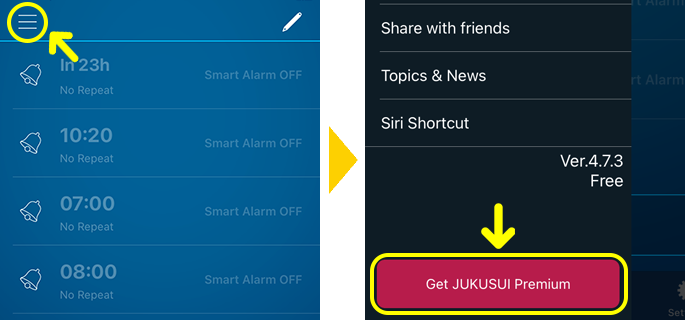 You can purchase "JUKUSUI Premium" on the JUKUSUI app. Open MENU on the alarm screen and tap the banner at the bottom of the menu.
You can buy JUKUSUI Premium within the app through in-app purchases on the App Store (iOS) and through in-app purchases on Google Play (Android).
If you don't cancel the free trial subscription during the free trial period (make sure to submit your cancellation request at least 24 hours before your renewal date), the subscription fee will be automatically charged to your account (Google Account or Apple ID).
One free trial per account (Google Account or Apple ID).
The subscription fee will be automatically charged when the expiration date is reached. If you cancel your subscription before the end of your subscription period, the subscription will not update automatically but you can still use your subscription until the current subscription period ends. However, the subscription fee is non-refundable even if your subscription will remain in effect until the end of your current month or year. Please see the Terms of Service for details.
▶ How to Cancel JUKUSUI Premium on iOS