You can delete your JUKUSUI account within the app.
We added the cloud account deletion feature in Ver. 4.6.7 for Android and in Ver. 4.6.16 for iOS.

The Cloud Service lets you securely keep all of your app data on our dedicated server (free). Previously, you needed to contact our support to delete your account, but in the latest version, you can delete the account on your side within app.
* This feature is only for those who had signed up for the Cloud Service.
How to delete the account?
To delete your JUKUSUI account, tap the top of the MENU to show the user information, then tap "Delete JUKUSUI account" at the bottom of the screen.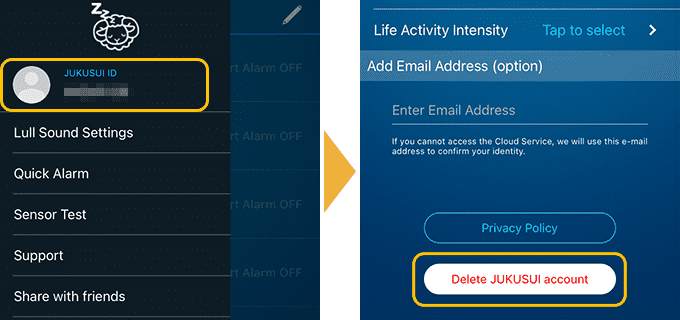 Please read the explanations carefully to ensure you understand the data to be deleted before deleting your account. The account cannot be recovered.
What you need to know before deleting your account
When you delete your account, all data related to this account on the Cloud Service will be deleted:
JUKUSUI ID & password
Recorded data and settings
User support history
Connection to Social Media account
User information (Incl. e-mail address)
The recorded and the settings stored on the device will not be deleted when you delete your JUKUSUI account. (The user support history is permanently deleted.) You can create a new account for the Cloud Service after deleting it.
Please note that deleting your JUKUSUI account will not automatically cancel your JUKUSUI Premium membership.